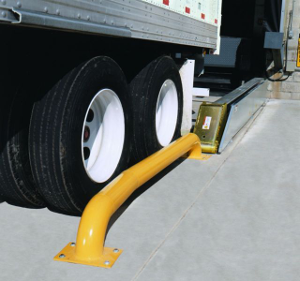 Wheel Guides
Wheel guides are becoming ever more popular due to health and safety, they are installed mainly at the entrance to a loading bay ensuring that vehicles line up with your loading bay doors. They have various different uses where a vehicle needs to be properly allinged to an entrance point. Call for a free quote today.
Potted Or Bolt Down
Made to any size
Galvanised & Powder Coated Finish
Height Restrictors
Height Restrictor Barriors are used in a number of different scenarios and locations, frequently seen in Car Parks with a height restricted roof or on Filling Station Forecourts. Height Restrictors stop vehicles that exceed a certain height to protect the property behind the barrier and also the vehicle from being damaged due to a heaight collision.
Soft impact or Solid Fixed Restrictor
Swing Opening -Single or Double Leaf
Galvanised and Powder Coated Finish
Swing Arm Barriers
Swing Arm Barriers are Lockable Barrier Gates to prevent unwanted access which swing open to allow access when required, these gate barriers are used in various different scenarios including factory entrance etc.
Single or Double Arm
Multiple designs available
Single or double arm
High Security model available
Request a call back
Just fill in your details and one of our friendly helpful team members will get back in touch.
[contact-form-7 404 "Not Found"]